The Uncle Floyd / John Dull and Friends Show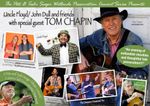 Book this show at the "contact" button (left). Electrify your organization's fundraising program with a sellout energy-kickin' show! "AN EVENING of OUTLANDISH CHUCKLES and THOUGHTFUL FOLK PROVOCATION!!!" Pack your hall with spirit-filled supporters, and profit on sell out gate receipts, sponsorship, and an easy-sell booster ad booklet. Pack the local punch with professional advertising that highlights your program.
Just e-mail requested dates and particulars from the "contact" button on the main menu. Leave name, phone, times and places for a return call,and you'll receive prompt response!


This show has appeared 30+ times in theatres, schools and halls in the NJ-NY metro area!
Billed as "An evening of outlandish chuckles and thoughtful folk provocation"; former participants have included: Tom Chapin; Oscar Brand; Peter Yarrow; Tom Paxton; Loretta Hagen; Spook Handy; Nenad Bach; Terence Martin; Mike Power; Scott and Leslie: Driscoll and Smith, Dan O'Dea, Alex Zetelski, Ted Clancy, the Dull Music Band, Bethany and Rufus, Mara Levine, RJ Storm and Old School, Dave Rimelis, The Dammers-Desmond Trio, and more.

The infamous Uncle Floyd (Floyd Vivino) who hosted NJ's longest running cable TV show, is considered NJ's top bananna in stand-up comedy. Refer to his wiki website for details of an incredible long-running history of vaudeville piano, crazy characters, and comedy: www.wikipedia.org/wiki/Floyd_Vivino
He'll tickle your heart while he tickles

the keys.