photo above by Charles Orlowicz - l to r - Martin Dull/John Dull

please scroll completely for posters
Have you ever been swept away by a sunset, a piece of music, a piece of art, a speech, an event, a thought, an athletic-high or an inspiration?
BOOK THIS CONCERT- in your home or venue
(based on 4 presentations given to the Fordham University Psychology Dept.) - bring this conce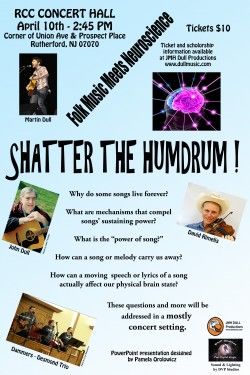 rt to your home! - it's simple! 10 concerts have been booked already
- 3 example fliers below from previous neuro-concerts
Will you challenge your guests with a concert that provokes a buzz???
Shatter the humdrum!!!
(please scroll completely)
This concert concept developed after 4 rousing presentations for the Fordham University Psychology Department. See Fordham flier below.
shatter the humdrum flier designed by Fred Dammers - DVP Studios
**********************************************************
Help design your own concert format - for guests numbering 10-15 or more:
1.
Approximately an hour and a half - add some coffee
, and you'll have produced a blockbuster event.
2.
Perfect for a home setting or a venue .
3.
Dynamic, humorous, and professional, this concert-happening weaves attendees' statements and questions with dialogue, song, discussion, an
d
summaries
of literature on a provocative, current,
*******************************************************************************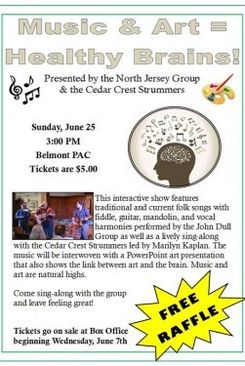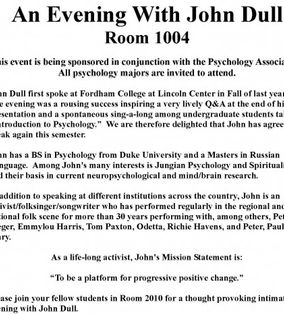 *************************************************************************
and fascinating topic.
(please scroll completely for more posters)
4.
Weaves discussion
surrounding media coverage of current
neuropsychological research which deals with peak human experience.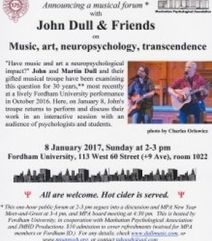 Book
NOW
at the contact button in the website menu.  (menu upper left) *************************** About the presenters: John Dull studied the Neuropsychological mechanisms underpinning inspiration and transcendent thinking during his undergraduate years at Duke University, 1967-72. His independent research on the topic was sponsored by one of Duke's foremost biological psychologists of that time; Irving Diamond, PhD. Dull received a degree in Psychology from Duke. The presenter has followed the research since that time and has spoken, concertized and promulgated the importance of the current findings concerning these brain processes for our world. As a songwriter, Dull has performed with Pete Seeger; Peter, Paul and Mary; Tom Paxton; Richie Havens; the Oak Ridge Boys; Emmylou Harris; Odetta; Tom Chapin and others. Dull holds a Masters in Russian language from Middlebury College. This presentation is designed to be challenging, captivating, and lively.  
Martin Dull, a 30 year old"indie-acoustic" singer/songwriter has been the subject of extensive articles in Jersey publications. As painter, he holds a Master of Fine Arts from the Studio School of NYC; and has received several notable awards - You will relate to the musician's exciting new edge. www.MartinDullArt.com
Martin is currently the Painting Technician and Assistant Teacher at  The NY Studio School of Drawing, Painting & Sculpture. He was the 2015 recipient of the Peter Rippon / Royal Academy European Travel Grant and finished a four week residency with the Golden Foundation in New Berlin, NY, in June of 2016. The artist maintains a studio practice in Jersey City.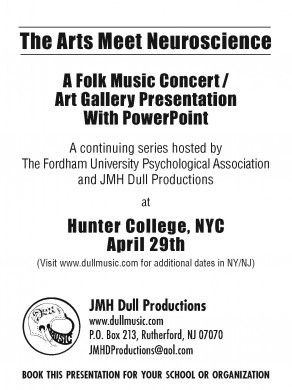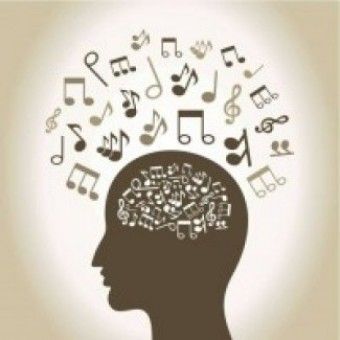 *******************************
Here's some press: Newspaper Articles -  Folk Music Meets Neuroscience - click on or enter in browser

http://www.northjersey.com/story/entertainment/music/2016/04/09/concertlecture-in-rutherford-will-link-folk-music-neuroscience/94616390/
http://www.northjersey.com/story/news/bergen/2016/03/31/folk-meets-neuroscience-at-rutherford-concert/94590326/
    *************************************** More info: Have you ever been swept away by a sunset, a piece of music, a speech, an event, a thought, an athletic-high or an inspiration? Accompany John and Martin Dull in an exploration of the advances in neuroscience that define the importance of transcendent experiences for overall health and for our understanding of humankind. Through song, patter, question, and discussion, the Dulls share about the literature, both mainstream and scientific, that reports on the neuroscience of inspired thinking. They will hypothesize concerning how new findings in this discipline could affect our world, our social structures, our philosophies, our religions and art , and our day-to-day life. The Dulls will venture to predict future trends that these discoveries will bring, and their importance for the human condition. ******************* This presentation is appropriate for house concerts; university and high-school classes, non-sectarian groups, churches, synagogues, temples, meetings, and concert halls. It is a generic topic that crosses and unites most disciplines. The concert is designed to your focus, needs and audience.